Barbecue chicken guide
The chicken with a college background
This account is based on information posted by Wally Day in Roadfood.com
Cornell-style barbecue chicken, sometimes referred to as "State Fair chicken," traces its origins to a Cornell University professor of animal science, Dr. Robert C. Baker (1921-2006.) Baker's original purpose was not necessarily to create a culinary delight, but to simply help New York poultry farmers sell more birds.
In the first half of the 20th Century, chickens were raised primarily as a source of eggs, and often they were not slaugthered until they reach a dressed weight of 4 or 5 pounds. Birds of this size were considered "fryers," any bird larger than this was a "roaster." Dr. Baker reasoned that if a market could be developed for a bird with a dressed weight of 2 3/4 to 3 pounds, poultry farmers could send their birds to market sooner, increasing their turnover. Thus the "broiler" with an optimum weight of 1 1/4 to 1 1/2 pounds per half.
For Dr. Baker's scheme of sending chickens to slaughter sooner to work, he needed to come up with a use for the smaller birds. The chicken barbecue filled the bill nicely. All that was needed was a tasty barbecue sauce recipe:
The Cornell Recipe
1 cup cooking oil
1 pint cider vinegar
3 tablespoons salt *
1 tablespoon poultry seasoning
1/2 teaspoon pepper
1 egg
Beat the egg, then add oil and beat again. Add other ingredients, then stir. The recipe can be varied to suit individual tastes. Makes enough for 10 chicken halves. Leftover sauce can be stored in a glass jar and stored in a refrigerator for several weeks.
Baker suggests that to cook chicken broilers, you need a hot, non-flaming fire. Broilers should be placed over the cooking fire after the flames are gone. Use this barbecue sauce as a basting material, he suggests. During cooking, the sauce should be brushed on the chicken every few minutes.
* Salt may be eliminated to suit health needs.
(Source: Cornell University)
Where to find Cornell-style barbecue chicken
The following places serve barbecue chicken prepared using variations of the Cornell Recipe, and range from summer-only roadside stands to year-round, full service restaurants. A typical dinner consists of one half chicken (on the bone), baked potato, cole slaw, and a roll or bread of some sort, and costs under $10. Ratings (one to four chickens) are based upon unannounced visits. Many of the places listed have other menu offerings (such as barbecued ribs), but the reviews apply only to the standard one-half chicken dinner.
Baker's Chicken Coop (Not reviewed)
New York State Fair
Syracuse, NY
Operated by the family of Dr. Robert C. Baker, the originator of the Cornell Recipe.
Bob's Barbecue Catering (Not reviewed)
87 W Main St
Homer, NY 13077
(607) 753-7098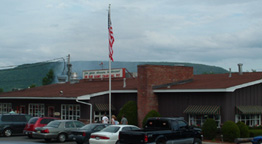 Brooks House of Bar-B-Q
NY Route 7, east end
Interstate 88 exit 16 (Emmons / Davenport)
Oneonta, NY
(607) 432-1782
Open year round, closed Mondays
Brooks Catering Schedule
Rating





Ambiance: After selling barbecue chicken from a stand on the grounds of the former Del-Sego Drive-In Theatre, Griffin Brooks opened his first restaurant in 1958. The building was greatly expanded in 1966 and looks much the same today. The decor is mid-1960s neo-Western/Colonial with a few updates. The original wagon wheel light fixtures have been replaced and the salad bar and rest rooms have been upgraded, but the original counter (serpentine layout topped with salmon Formica and counter stools styled like little captain's chairs) remains. The walls are decorated with country and chicken kitsch, most notably a mural over the counter area showing the life cycle of a chicken: first an egg, then a baby chick, then an adult chicken, then a chicken half grilling over the coals. (Thankfully the gory part of the story was omitted.) At busy times, expect a wait for a table, but counter seating is almost always available. Or, you can order take-out and picnic on the grounds.
Food: The Brooks chicken half is the standard by which the others are to be judged. Chickens obtained at the restaurant are flavorful and grilled to perfection- the wing and drumstick easily break away at the joint. Some Brooks chickens obtained at catering locations are slightly lower quality (since many catered events are exceptionally busy, there's pressure to rush chicken to meet demand.) Dinner at the restaurant comes with choice of baked potato or French fries (homemade, a little soggy but tasty) and salad bar (recently updated, now offering a few more selections other than a big pan of iceberg lettuce.)
Giffy's Bar B Q
US Route 9
Near I-87 Northway Exit 9
Clifton Park, NY
Open year round, closed Mondays
Rating



Ambiance: Relatively new restaurant with an attractive dining room decorated with country and chicken kitsch. Outdoor dining is also available on a front porch.
Food: Giffy's chicken rates below the others. The chicken seems dry (as though it were left on the grill too long) and then they try to revive it by adding more sauce, resulting in an overly vinegary taste. Dinner comes with a choice of baked potato or French fries, cole slaw, rolls, and a very good sugar cookie.
Phil's Chicken House (Not reviewed)
1208 Maine Road
Endicott, NY 13760
(607) 748-7574 or 1-800-523-8863
Open year round 7 days a week
A little different since they use a rotisserie instead of placing chicken halves flat over the coals.
PJ's Bar B QSA
US Route 9
Heading north from I-87 Northway Exit 13N, on the right
Saratoga Springs, NY
(518) 583-CHIK or (518) 583-RIBS
Open year round 7 days a week
Rating




(New review 9/21/2013)
Ambiance: PJ's Bar B Q was opened in 1984 in a former 1950s A & W Root Beer drive-in by PJ and Carolyn Davis. The couple attended college in Oneonta, and Carolyn once worked at Brooks. For its remodeling into Bar-B-QSA, the front area of the A & W was enclosed, removing virtually any trace that it was ever an A & W, except for the original car hop canopy still visible across the front (shading picnic tables, indoor seating is also available.) PJ and Carolyn are proud Baby Boomers, maintaining a "1950s House" mini-museum of period memorabilia across the street. At selected times, an on-site DJ will honor your song requests, so long as they are from the period between 1946 and 1964.
Food: For Bar-B-QSA, the Davises invested in technology, and the chicken halves are now grilled on a massive indoor rotisserie (think Ron Popeil's Showtime Oven on steroids) although a sign assures any doubters that they still use live coals. The resulting chicken half, basted with the Davises' own version of the Cornell Recipe (a little spicier than Brooks) is very well done and breaks apart easily. The half chicken dinner comes with two sides (baked potatoes are not available) and at $12 the price is at the high end.