Welcome to the newly revamped RoadsideFans.com! The great new design is a Christmas present from my stepson, Ray Milstrey.
But the fact that RoadsideFans exists at all traces to another Christmas present, 17 years earlier.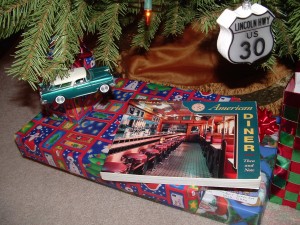 The year was 1994, and my wife, Susan, noticed my fascination with Pennsylvania Diners and Other Roadside Restaurants, which we watched on PBS that summer. For Christmas, she wanted to give me a book about diners.
Fortunately, a clerk in the Colonie Barnes & Noble recommended THE book about diners – American Diner Then and Now by Richard J. S. Gutman.
Reading that book re-awakened my interest in the American roadside. One thing led to another, culminating in the founding of the  RoadsideFans Yahoo Group  in 2001. You can read the entire story here.
The new RoadsideFans.com is a WordPress blog, and if that seems familiar, it's because several other roadside-related web sites already use WordPress – Diner Hotline, Retro Roadmap, Diner Hunter, and Lincoln Highway News among them. As with the others, visitors to RoadsideFans will now have a chance to leave comments – simply click the arrow at the top right and scroll down to the bottom of the posting. There will probably be more new features yet to come as I become more familiar with WordPress.
You will find several features from the old web site on the new RoadsideFans.com. By clicking FEATURES on the bar above, you can access the Howard Johnson's, barbecue chicken, and Taconic Parkway features from the old web site. However, the Online Diner Tours and some other photo features from the old site have been retired. Most of these were a decade or more old, and many of the places no longer exist or have changed names. I am considering uploading the pictures to a Flickr account to maintain the historical record. 
Going forward, I plan to post my original content here – for example, accounts of my road trips, book reviews, and original photographs. The RoadsideFans Yahoo Group will continue unchanged, and will remain the place to visit for the latest roadside news.
So, welcome to our new home! There's a world of roadside yet to explore.